Video Meeting
Reliable online video meetings & conferencing
Get seamless video meetings that build, grow, and connect your teams from anywhere.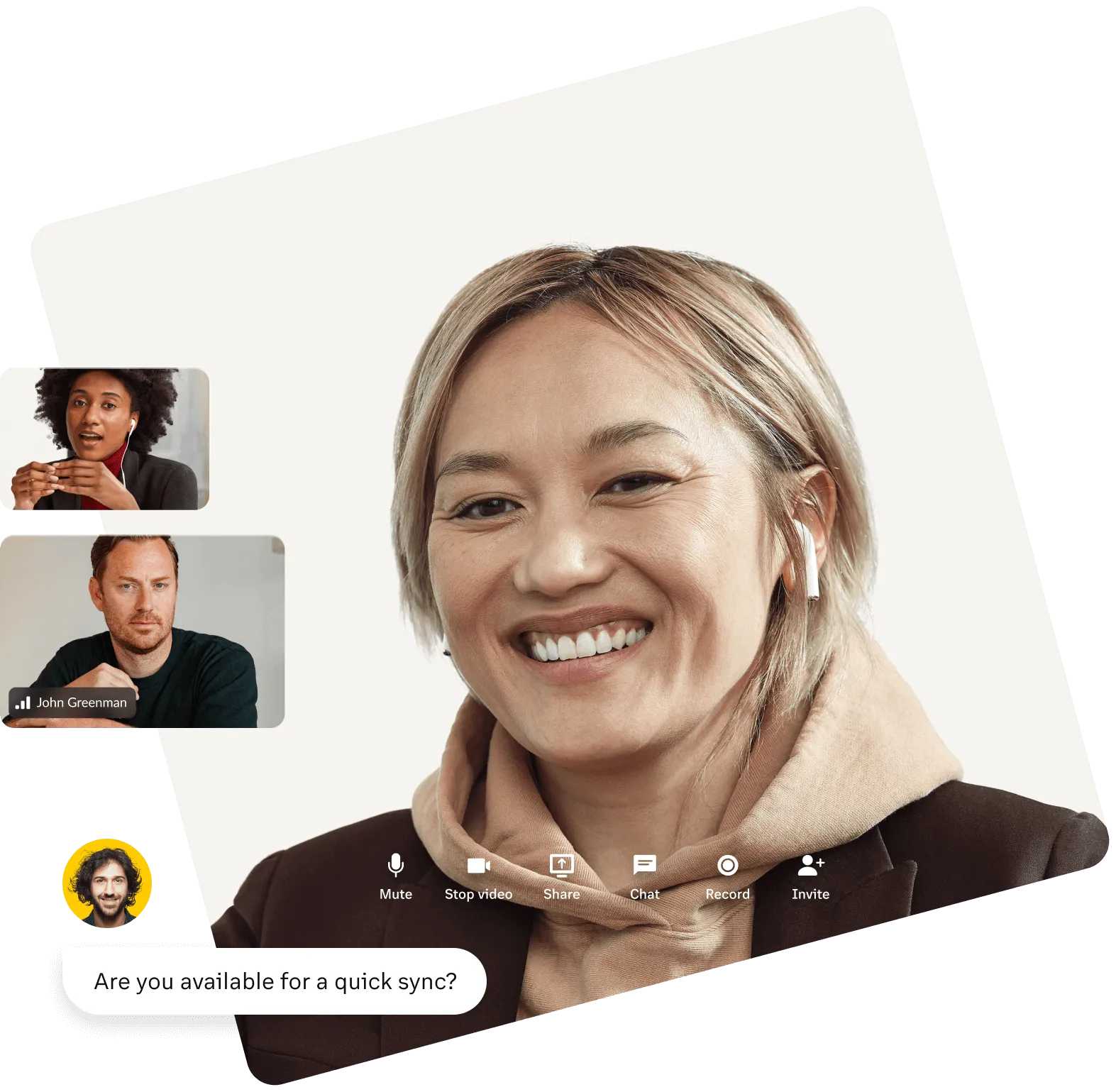 HD on any device
Connect hybrid teams over flawless HD video and audio across multiple devices, with no time limitations and support for up to 200 video participants.
Powered by AI
Create a more immersive meeting experience with intuitive AI capabilities.
Switch from phone to video with a tap
Hop from a phone call straight to a video call without opening another app.
Uncompromised security
Protect every conversation with end-to-end encryption, passcode protection, waiting room, and other host controls.
Flexible video meetings for clients and teammates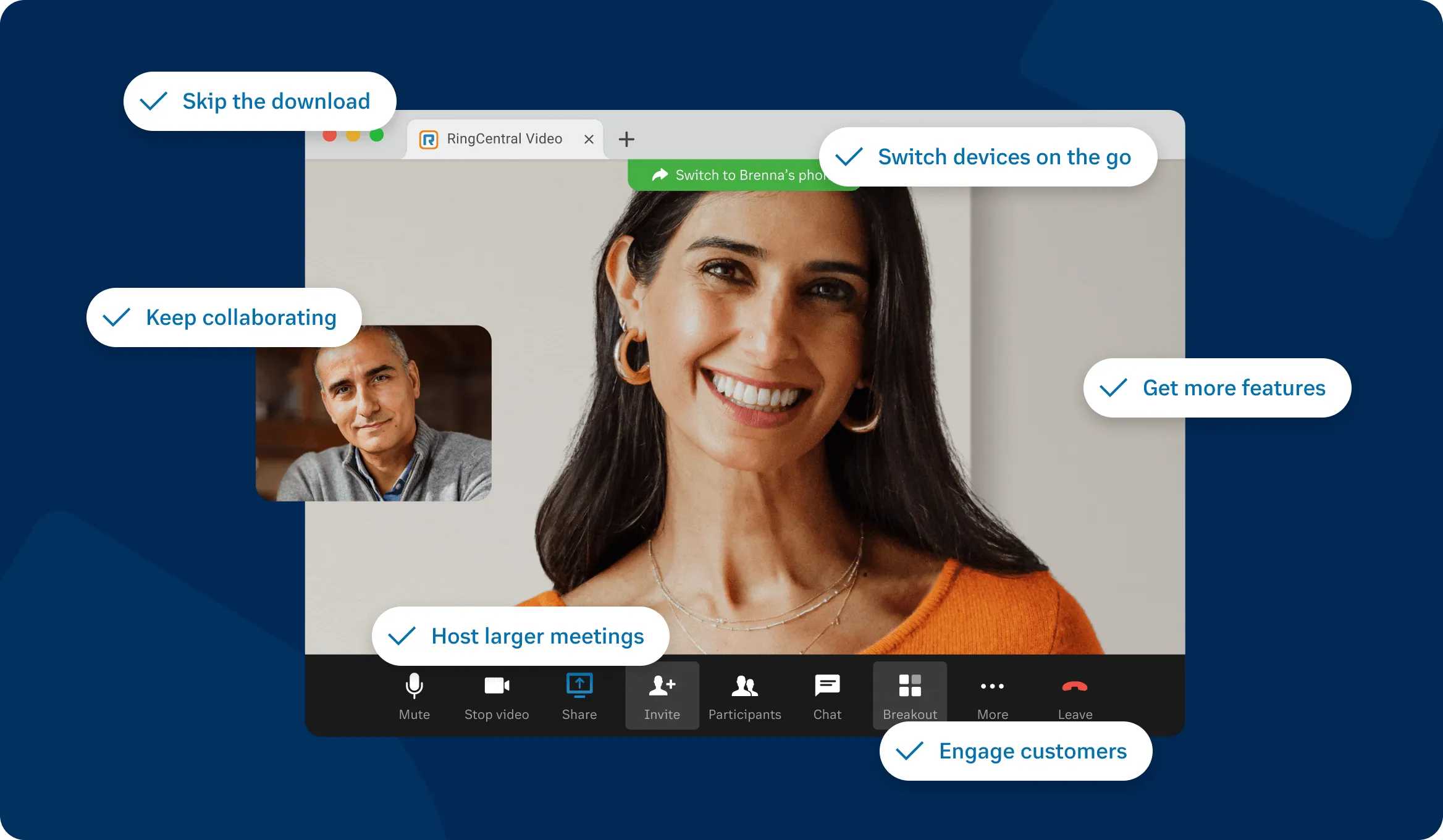 Skip the download
Securely host meetings across mobile, desktop, or browser, with or without the app.
Switch devices on the go
Flip from mobile to desktop and back again with one tap, without ever leaving your meeting.
Keep collaborating
Create teams for internal and external groups, share agendas, and send files for extra context before a meeting starts.
Get more features
Empower teams with screen sharing, whiteboard, annotations, breakout rooms, in-meeting chat, meeting recording, and more.
Host larger meetings
Invite up to 200 participants, or go big with a large meeting license add-on.
Engage customers
Create a secure and professional space to meet clients face-to-face, all in HD video and audio.
Dive into the details with our video meetings datasheet
Benefits of RingCentral's Team Messaging App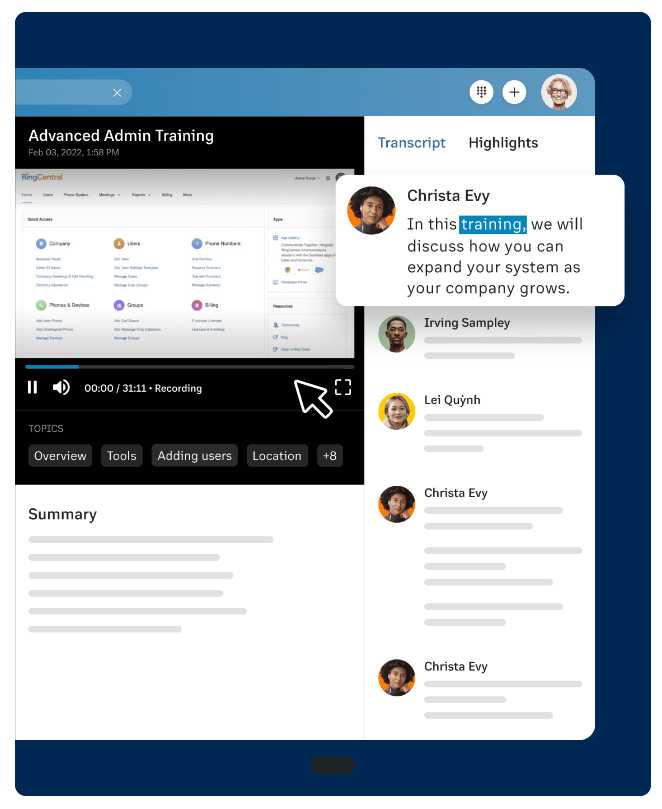 Advanced Meeting Insights
Catch up quickly with recordings that include meeting summaries, topics, video highlight reels, keywords, and transcripts.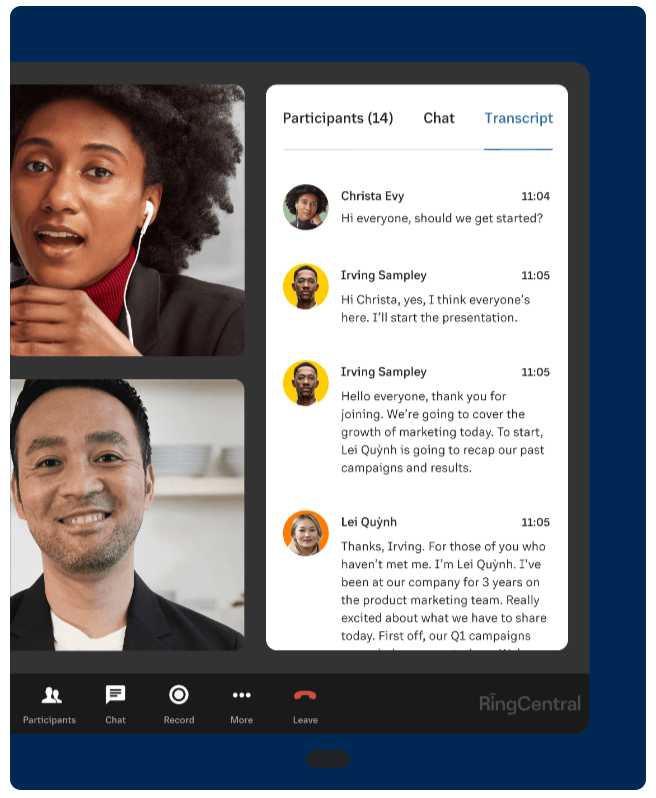 Live Transcription
Keep a record of who-said-what with automatic voice transcription, complete with speaker identification.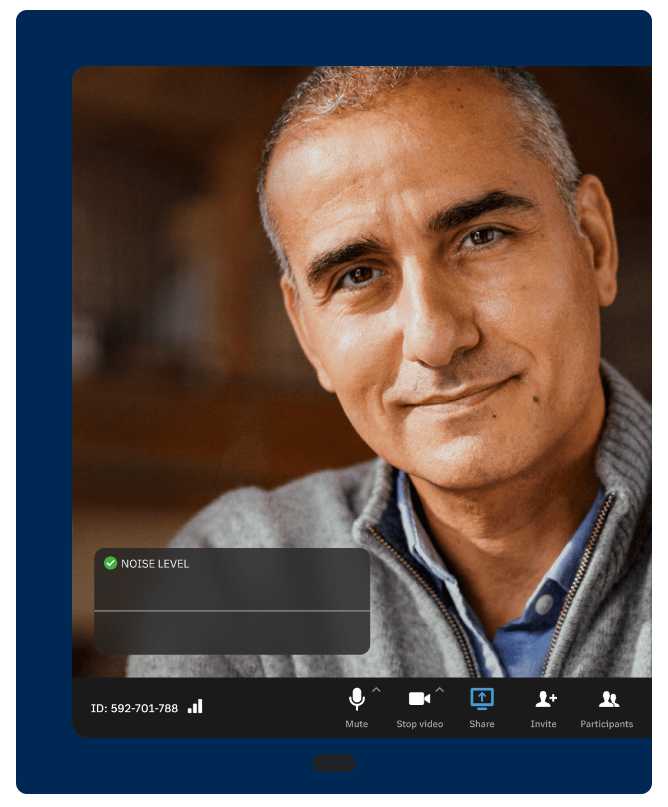 AI-powered noise reduction
Automatically filter out unwanted background noise such as keyboard typing, dogs barking, lawn mowing, and more for clear, crisp audio.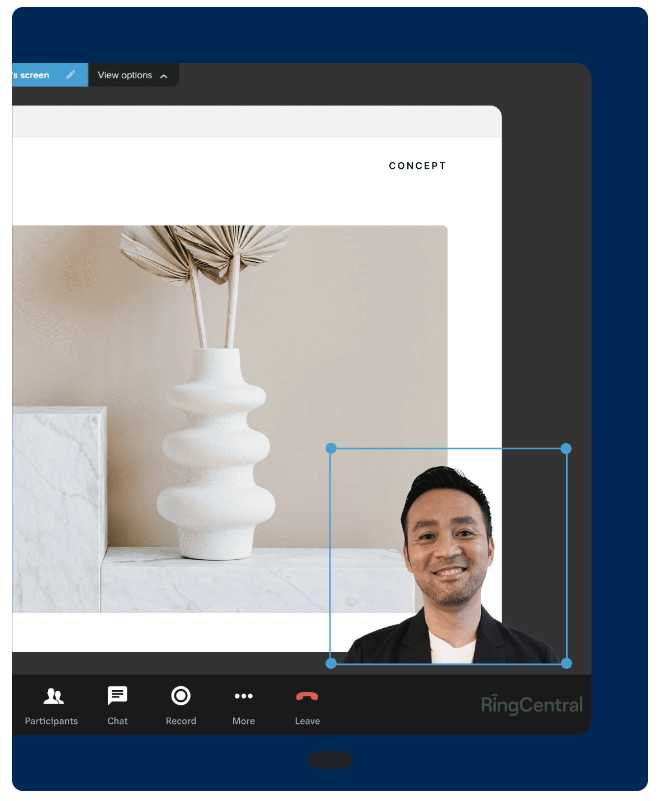 Presentation Modes
Immerse your audience in presentation mode while keeping everyone on the same page with screen sharing.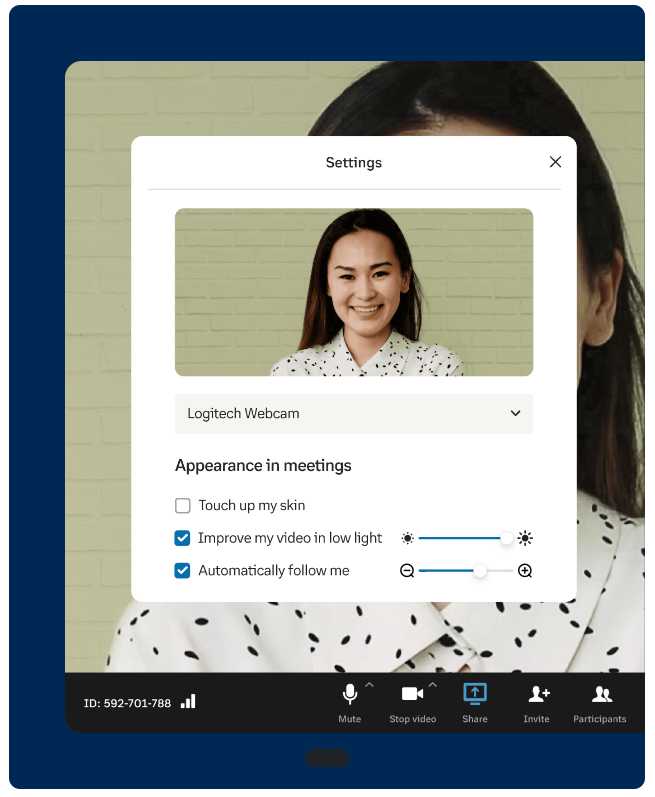 Auto-follow
Click on the auto-follow and let the camera follow your every movement while you're presenting.
Collaboration tools that make brainstorming easy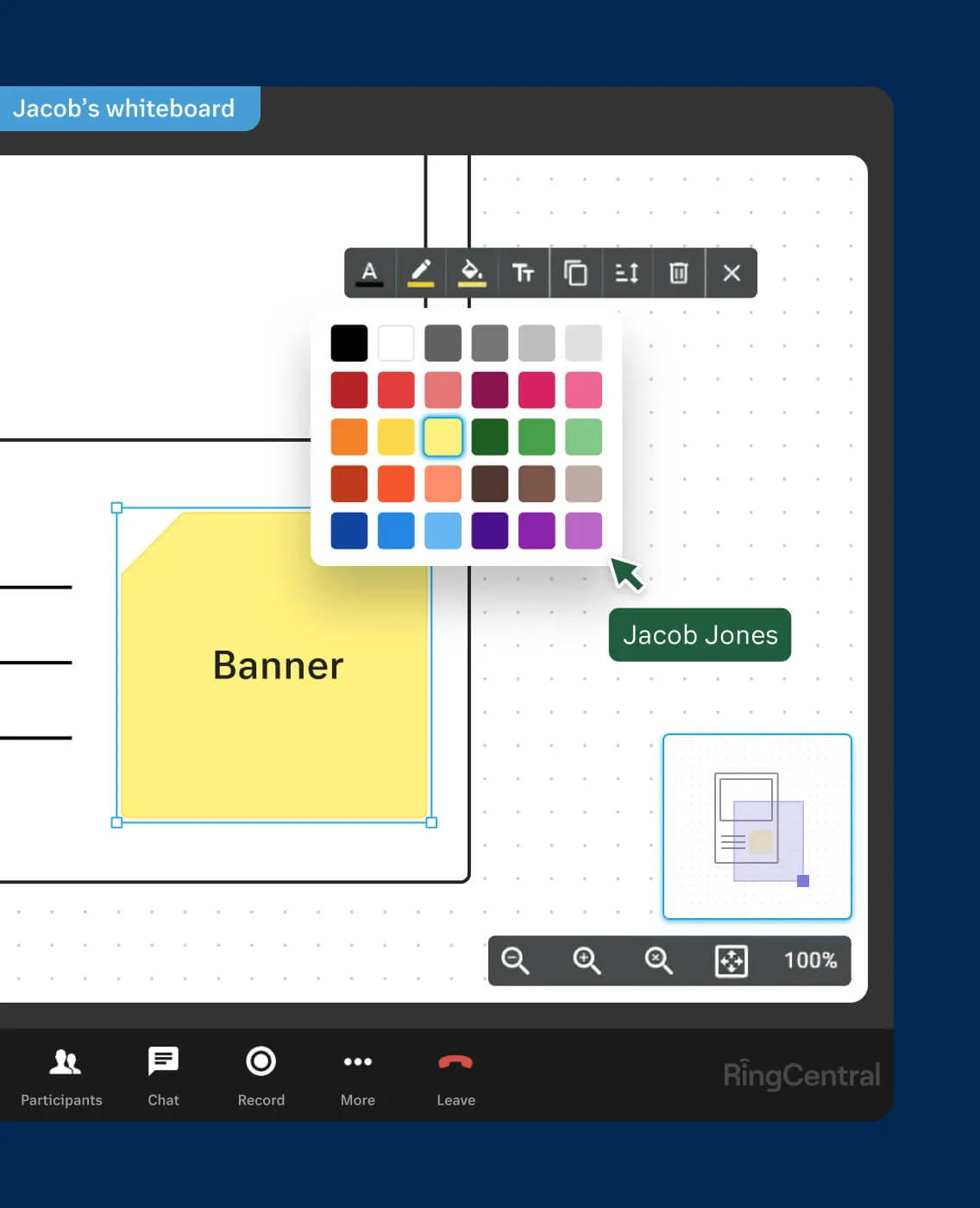 Whiteboard
Bring teams together for exciting collaborative sessions with a digital whiteboard that makes room for everyone's ideas.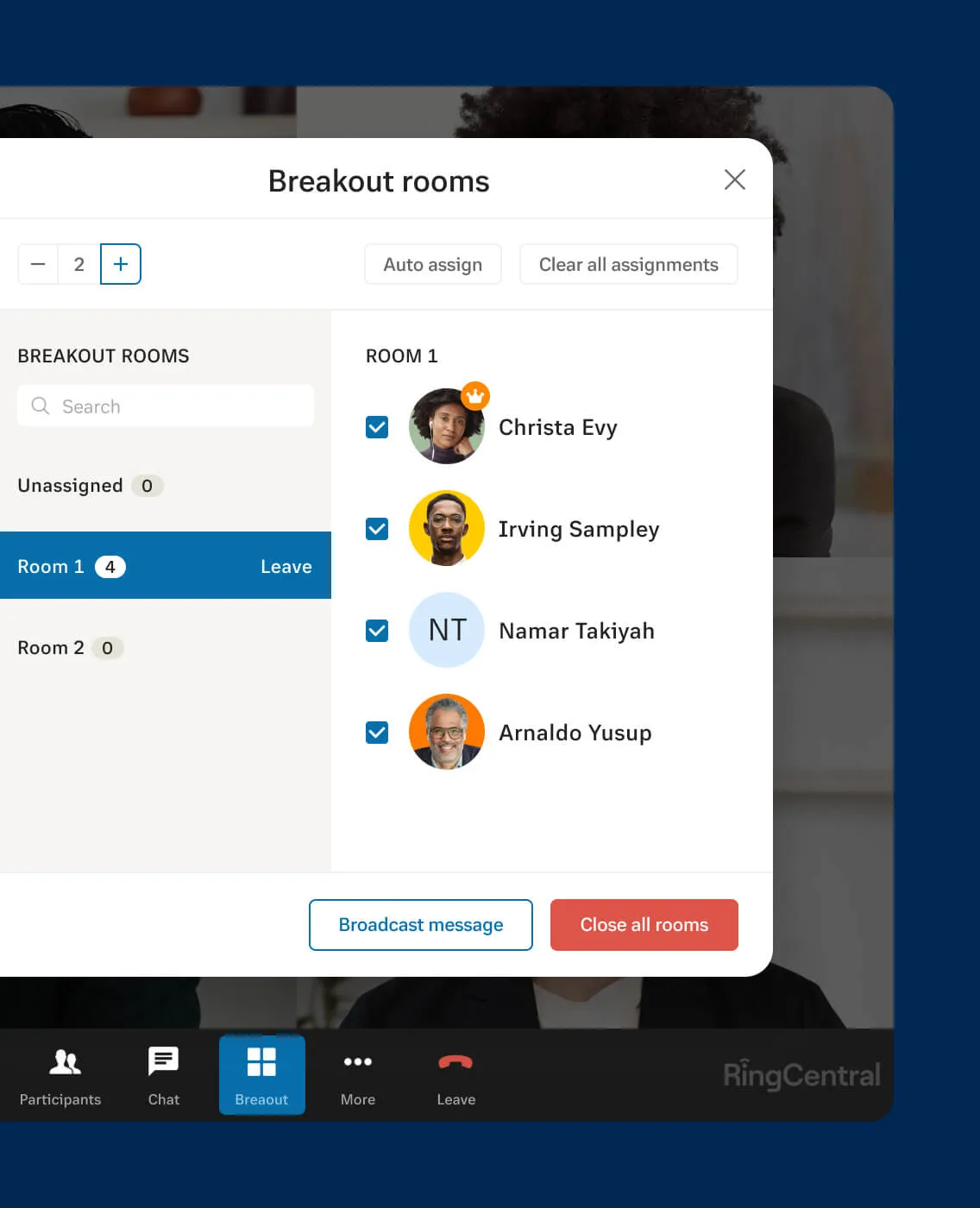 Breakout Rooms
Easily split up a larger meeting into smaller groups for effective brainstorming sessions.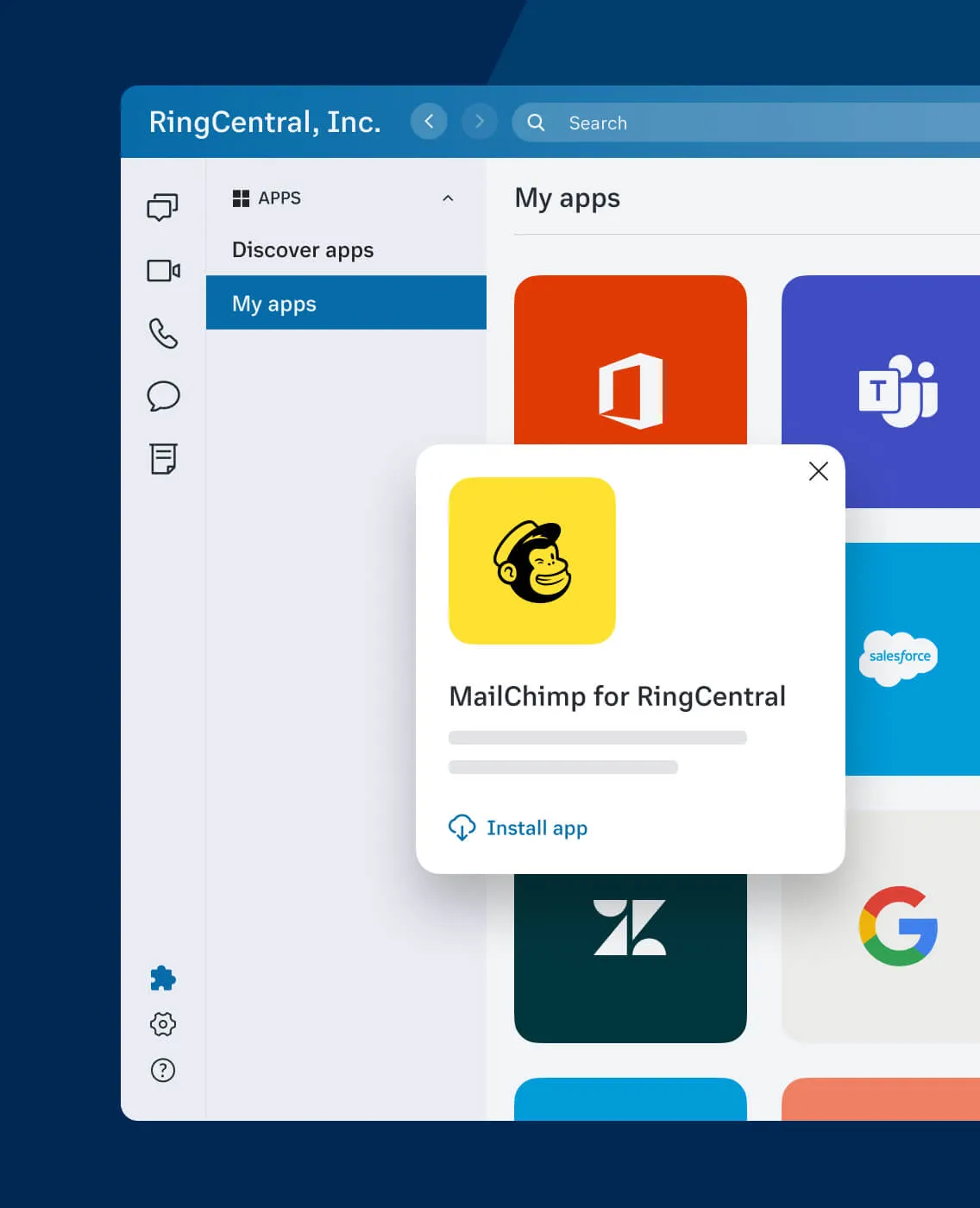 Participant Reactions
Give the presenter and other participants a ? emoji and other reactions for easy and quick non-verbal feedback.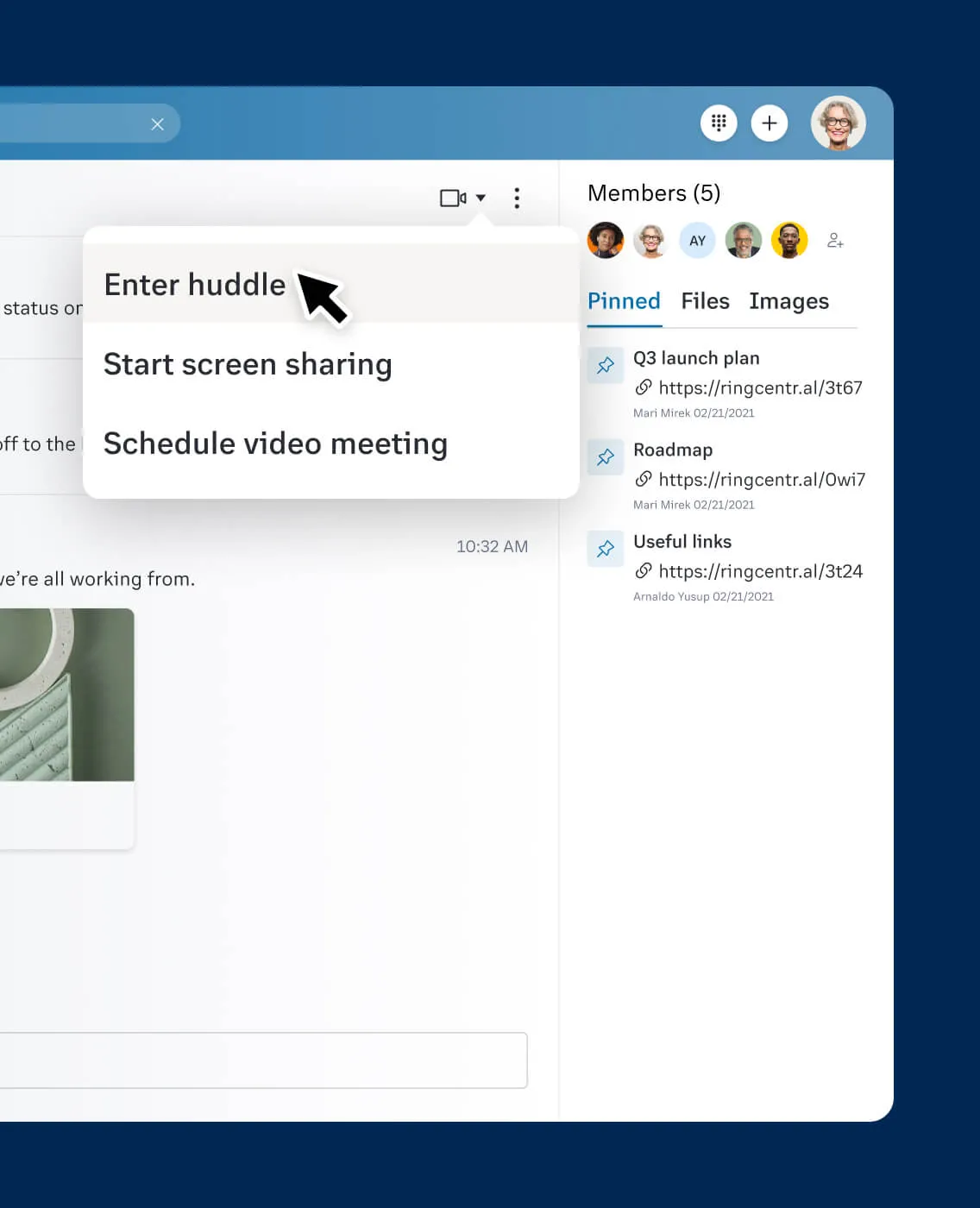 Team Huddle
Host ongoing meetings that allow colleagues to come and go as they please – kind of like a virtual team room.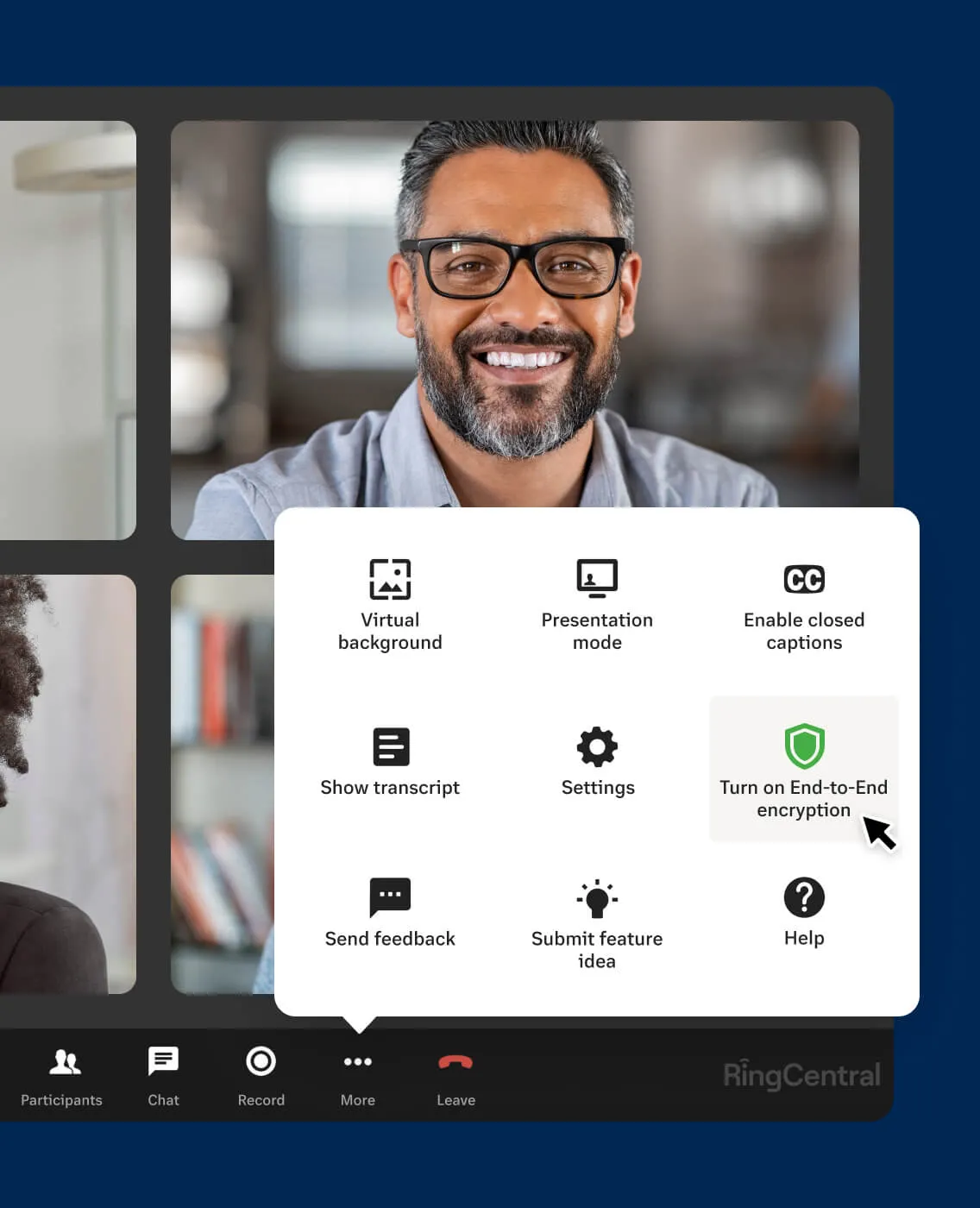 Dynamic end-to-end encryption
Add another layer of security to video meetings when needed – with the ability to dynamically turn on or off with a click of a button.
Frequently Asked Questions
Do you need the RingCentral app to join a meeting?
No download is required to join a RingCentral video meeting.
Instead of downloading the RingCentral app, simply join from a supported web browser (currently Microsoft Edge (desktop), Google Chrome (desktop and Android mobile), and Firefox (desktop) are supported, with support for Safari coming soon).
Is RingCentral video safe?
RingCentral's video conferencing solution is absolutely secure and trusted by big and small businesses worldwide.
Our virtual meetings come with multi-layer security and are GDPR, HIPAA, and HITRUST certified. Your plan includes features such as a waiting room and user authentication to make sure only authorized users can join your meetings.
Add an extra layer of confidentiality in your meetings. RingCentral's video conferencing solution also comes with dynamic end-to-end encryption (E2EE), allowing you to turn it on in the middle of the meeting for more confidential conversations.
How do I schedule an online meeting?
Scheduling a RingCentral video meeting is simple, and there are three ways to do so through the RingCentral app.
You can:
Schedule via the Video tab interface.
Schedule using the Video action button in any conversation.
Schedule via the "New" action button next to your profile name on the top right of the app.
We highly recommend syncing your Microsoft Outlook or Google Calendar so that you can ensure your meetings are on your calendar!
You can also easily schedule meeting directly from Microsoft Outlook or Google Calendar with the respective Scheduler Add-Ins, available through our RingCentral App Gallery.
How can I record my video meeting?
Recordings can be done by the meeting host. For the meeting host, click on the record button located on the bottom of your meeting screen. You will know the recording has started when a red dot and a timer shows up on the bottom left.
Once the meeting is completed, go to the Video tab in the RingCentral app and select "All recordings". You'll notice that the recording will contain Advanced Meeting Insights, which consists of AI-generated summaries, keywords, highlight reel, and meeting transcripts which allow you to easily catch up without having to rewatch the entire recording. These insights are shareable with users within your company.
How long do RingCentral video meetings last?
There are no time limits with RingCentral video meetings. Unlike other free video conferencing services—and some paid plans, too—there are no time limits here, 40 minutes or otherwise. Plus, you're free to schedule as many meetings as you'd like.
You'll have full confidence in hosting a 1:1 call or video meeting with more than 2 attendees by hosting a meeting 24 hours a day, 7 days a week.
How do I join a RingCentral video meeting?
Whether you're a meeting host or a participant, it's easy to join a video meeting.
If you have the RingCentral app downloaded and your calendar synced, simply go to the "Video" tab, hover over the meeting on your calendar, and click on "Join".
You can also easily join from a supported browser. Click on the meeting link, whether sent to you directly or in your calendar invite. When prompted, click to join the meeting from the browser.