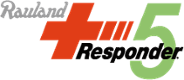 Patient Safety
Increase the Safety of Your Patients
Respond effectively to the most critical needs
Critical communication solutions from Responder® 5 support your ongoing efforts to ensure the safety of your patients and play an essential role in preventing potential dangers to their well-being.
Visually identify fall risks
Communicate those at risk of falling visually via whiteboards and corridor lights above the patient door all automatically from the EMR.
Reduce alarm fatigue for better attentiveness
Triage your patient requests to the appropriate members of the care team and free RN time for delivering better patient care.   Use corridor lights as a silent requestor to further reduce noise and create a healthier, more healing environment.
Protect with regular rounding
Deliver automatic rounding reminders first visually to the corridor light and when done, document  the activity automatically  to the EMR – removing the tedium of updating paper records.
Provide safety when patients are most vulnerable
Responder solutions provide 2-way audio communication from the patient's bed and toilet to the caregiver's phone for immediate assurance and response.
Isolate potentially infectious patients
Responder solutions easily identify and help isolate contagious patients to enforce policies and provide detailed reporting on contact with these patients.