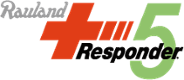 Proven Effectiveness
Maintain a Competitive Edge
Leveraging technology to prevent missed care
Preventing Missed Care
Missed care in responding to a patient's needs can be caused by gaps in resources, communication and technology. Responder® is uniquely positioned to address many of these antecedents, by enabling appropriate response, creating better efficiencies and supporting communications.
Evidence-Based Strategies
Responder can automate support for evidence-based practice strategies, with architecture that supports best of breed integrations and interoperability, from alerts and rounding to white board communication and automatic team notifications. Responder 5 supports these safe practice process while creating opportunities to improve efficiencies and bedside care.
Positive Impacts on Care
Technology improvements can affect the overall environment of care. Time savings affect productivity. And staff satisfaction loops back affecting patient experience, safety and teamwork.
Value-Based Purchasing
To obtain your own third-party, Value-Based Purchasing assessment and analysis, contact us to determine resource availability and project parameters. The assessment is provided at no cost.